Using Topaz DeNoise AI for Editing your Bird Photographs
Before purchasing Topaz DeNoise AI, I used multiple Photoshop layers and masks to selectively remove noise from the background and sharpen the birds in my photographs. This workflow produced great results but also was very time consuming.
Using Topaz DeNoise AI has greatly reduced the amount of time it takes to process my bird photographs. Topaz uses artificial intelligence to selectively reduce noise and sharpen your images. I find this works really well for bird photographs.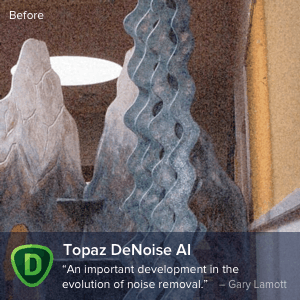 Topaz DeNoise AI can be used as a plug-in for Adobe Lightroom and Photoshop or run as a stand alone application. I generally run DeNoise from Photoshop in case I want to use a layer mask on parts of the image.
When you first launch DeNoise AI, go into the Preferences / Advanced Preferences and try changing Devise Selection to GPU and Allowed Graphics Memory Consumption to High. If you have a newer, faster PC this will allow Topaz DeNoise to utilize the GPU to process faster.
Using Topaz DeNoise AI
I generally use the DeNoise AI mode. The older AI Clear algorithm can sometimes change the color tones in the image. I also find the DeNoise AI mode does a better job of selectively removing noise and sharpening the image.
While using DeNoise, I zoom in on the image use the Split View. You can use the mouse to move the vertical divider line to see the before and after view of the image while adjusting the Remove Noise and Enhance Sharpness sliders to get the desired look for the image.
It doesn't hurt to try the Auto setting. Sometimes it does a really good job you don't need to further adjust the image. However, I generally manually adjust the Remove Noise and Enhance Sharpness settings.
If you select the Auto-update preview check box, the preview will automatically update every time you make changes to the image. I tend to keep this feature on. If you turn off the Auto-update preview, you will need to remember to press the Update button to see the effect of your changes.
My Bird Photography Editing Workflow using Topaz DeNoise
Do any basic edits in Lightroom (Crop, Exposure, Contrast, Saturation, White Balance, etc.)
Clone out any unwanted parts of the image in Photoshop (Content Aware Fill or the Clone Stamp)
Use Topaz DeNoise AI to selectively remove noise and sharpen the image.
Selectively sharpen areas of the image using Unsharp Mask in Photoshop (Filters – Sharpen – Unsharp Mask). Use a black layer mask and paint the areas you want to sharpen with a white brush. Use the brush opacity to get the desired look.
Add a vignette (Photoshop, Lightroom or Color Efex Pro 4 – Darken / Lighten Center Filter).
Written by Martin Belan
Related Blog Posts
Should you Switch to the Olympus OM-D and 300mm f/4 lens for Bird and Wildlife Photography?
How to Use Custom Mode Settings on your Olympus OM-D Camera for Bird Photography
15 Tips for Better Bird Photography