How to Post Process Your Bird Photographs in Lightroom and Photoshop
It is difficult to develop a detailed, step by step recipe for post processing bird photographs as every image is different. But in this blog, I'll describe my processing steps at a higher level and my decision process for how to edit bird photographs in Lightroom and Photoshop. I have also included several links that provide more detail for some of the post processing steps.
Many photographers utilize mainly Lightroom for editing their photographs. I like using a combination of Photoshop, Lightroom Classic, and a few plug-ins for my post processing workflow. Using Photoshop, especially in cleaning up backgrounds and selective editing helps to produce a better quality bird photograph.
These are my steps in birds photography post processing. There are plenty of other workflows for bird photography post processing. My suggestion is to look at several photographers' processes and pick the steps that work best for you.
What Makes a Great Bird Photograph? 10 Tips that Will Make Your Images Stand Out
Bird Photography Post Processing Steps
Crop the image in Lightroom (R Key)
I like to crop first so I don't waste time in post processing / cleaning up areas of the image that I won't be keeping.
Lightroom Basic Panel Edits
I like to make the basic panel slider adjustments in Adobe Lightroom Classic while working with the RAW image. I adjust the Temp, Tint, Exposure, Contrast, Shadows, Highlights, Whites, Blacks, Vibrance, and Saturation.
These adjustments will vary depending on the image. But, a couple of sliders that I almost always adjust are the Shadows, Highlights, and Whites.
Background Decision
Next, I make a decision on how to process the background. This will vary based on the state of the background. If the photograph has a clean background with a nice blurry bokeh, it may just need a little clean up in Photoshop.
If the background is clean but doesn't have a nice blurry bokeh, I will blur the background in photoshop. Visit my blog on How to Blur the Background of your Bird Photographs.
If the background is just not usable (plain gray sky, way too many branches), I may choose to replace the background. I use both Adobe Photoshop and Luminar AI Sky Replacement to replace the skies on my bird photographs. Here is more information on using the Photoshop Sky Replacement tool on bird photographs.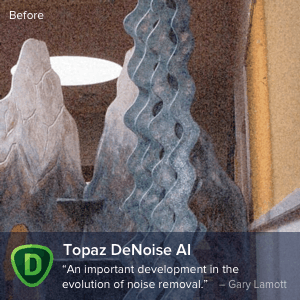 Background Clean Up
To clean up the distracting elements in the background, I use 3 main tools.
Content Aware Fill (Shift F5)
Clone Stamp (S Key)
Healing Brush – (J Key)
I use the Healing Brush and Clone Stamp to remove smaller objects. For larger objects, I start with Content Aware Fill. You may need to use Content Aware Fill several times. I find that it works better if you work on smaller pieces of the image vs. trying to fill larger areas. If you select Content Aware Fill from the Edit Menu instead of the keyboard shortcut, you can select the area you want Photoshop to use in replacing your selection.
I also use the clone stamp to clean up parts of the image. This is especially useful when you are close to the subject or an area of the photo that you want to keep.
Remove Noise and Sharpen Your Image
My favorite tool to remove the noise from my image is Topaz DeNoise AI. The DeNoise AI algorithm will remove noise from your image and also sharpen your subject. You can have the software automatically determine the amount of noise reduction and sharpening or you can adjust the Remove Noise and Enhance Sharpness sliders to your liking.
If you don't have Topaz DeNoise, you can use Adobe Camera Raw Noise Reduction and Sharpening. On some photos, I find that this works better than Topaz DeNoise AI.
You can also add a Layer Mask to selectively apply the noise reduction and sharpening in your image. You paint on the layer mask with a white or black brush to selectively apply sharpening and noise reduction (white – reveals, black conceals).
Selective Sharpening
If find the head or eye of the bird is not sharp enough, I use selective sharpening only on those areas that require additional sharpening. To do this, I use the sharpening in Adobe Camera Raw or the Unsharp Mask filter with a layer mask.
Selective Sharpening Steps
Duplicate the background layer (Command + J (Mac), Control + J (Windows)
Sharpen the layer using Adobe Camera Raw or the Unsharp Mask filter
Add a black layer mask to the layer (Option + Click Add Layer Mask (Mac), Alt + Click Add Later Mask (Windows)
Using a White Brush, paint over the area you want to sharpen. You can use the brush opacity slider at the top of the window to control how much sharpening to apply to each area of the image.
Add a Vignette
Darkening the edges of an image and brightening your subject can bring attention to your subject and make it pop in the photo. My preferred method of doing this is using the Darken / Lighten Center filter in Nik Color Efex Pro 4.
With the Darken / Lighten Center filter, you can brighten the center of the image as well as darken the borders. Color Efex Pro 4 also has control points that you can use to prevent the filter from applying to areas of the image.
If you don't have the Nik Collection, you can also use the Vignette Filter in Lightroom or Adobe Camera Raw to darken the edges of the image. The Radial Filter in Lightroom can be used to lighten the subject and center of the image.
Apply Selective Edits in Photoshop
I may want to draw more or less attention to certain parts of the photograph. I do this by selectively editing certain areas of the image.
To draw attention to an area of the image, I will normally lighten or add saturation to only that area
To draw less attention to an area of the image, I will darken that area or reduce the saturation
I normally use the following adjustment layers for these edits.
Brightness / Contrast
Hue / Saturation
Vibrance
Curves
I use the following tools to create selections to edit specific areas of the photograph:
Lumenzia – Luminosity Mask Panel
Painting with a White Brush on a Black Layer Mask
Background Clean Up Part 2
When I'm finished editing, I like to take one last look at the image for any for any distracting elements in the background. I remove the distracting elements using the same tools that I used in the clean up step above (Content Aware Fill, Healing Brush, and the Clone Stamp).
Written by Martin Belan
Related Blog Posts
Should you Switch to the Olympus OM-D and 300mm f/4 lens for Bird and Wildlife Photography?
What Makes a Great Bird Photograph? 10 Things That Will Make Your Images Stand Out
15 Tips for Better Bird Photography
The Site may contain links to affiliate websites, and we receive an affiliate commission for any purchases made by you on the affiliate website using such links. Our affiliates include: Amazon, Skylum Software, Topaz Labs, DxO, Viator, Hotelopia, and Langly Co.